Triangle Inn Food
Traditional home made food served daily.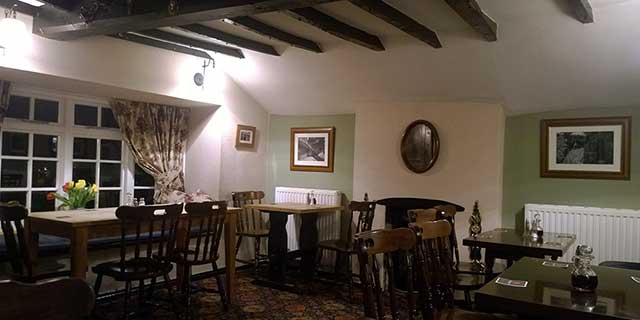 The Triangle Inn proudly sources produce from local farms whenever possible.
Service: 5pm - 9pm Monday to Saturday.
Daily specials board
Mid-week specials
Take-away menu (click below for details).
Please don't hesitate to let us know of any dietary requirements.
We allow dogs in the bar area but not in the restaurant. Please let us know when booking if you're bringing your four-legged friend.
Triangle Inn Menu
Below are just
some

examples of the food we serve.
Our full menu is more extensive & we also have a regularly changing specials board.
From the Sea
13 oz Battered Haddock £13.95
Breaded Plaice £9.95
Wholetail Scampi £10.95
From the Grill
10 oz Sirloin £14.95
12 oz Rump £13.95
10 oz Gammon £13.75
Mains
Lamb Shank £13.95
Vegetable Lasagne £10.95
Brie & Beetroot Tart £10.50
Seasoned Roast Duck £15.95
Homemade Curries
Chicken Curry £10.95
Vegetable Curry £9.95
Lighter Bites
Panini £6.75
Baguette £6.25
Sandwich £5.95
Homemade Desserts
Fruit Cheesecake £5.25
Sticky Toffee Pudding £5.25
Banana & Walnut Crème Brûlée £5.25
The above are a selection of the food we serve. Many more dishes are available on our full menu & specials board.
We are able (and delighted) to meet your dietary & allergenic requirements.